The Australian Missile Corporation has welcomed its appointment to the Enterprise Partner Panel for the nation's new guided weapons enterprise.
The AMC was founded by Queensland-based NIOA – the largest Australian-owned supplier of weapons and munitions to the Australian Defence Force.
As a Guided Weapons and Explosive Ordnance (GWEO) enterprise partner, the AMC will be engaged to assist the Department of Defence to mobilise Australia's industrial base in support of the enterprise, which could include skilling, infrastructure development, research and development, and test and evaluation, among other things.
Robert Nioa, CEO of NIOA, said: "We are delighted that the Australian Missile Corporation has been chosen to partner with the Commonwealth Government for this important project for the nation.
"This is the beginning of an exciting opportunity to pioneer a high-tech defence manufacturing sector that will create jobs, drive innovation and build critical sovereign capability.
"The AMC is looking forward to working with our industry partners, combining our extensive capabilities and experience to deliver the best of breed technology to the ADF.''
Mr Nioa has announced Royal Australian Navy Rear Admiral (Ret'd) Lee Goddard as CEO of the AMC.
Mr Nioa said RADM Goddard's vast operational and leadership experience combined with his strategic insight would be an asset to the AMC.
During a 34-year career, RADM Goddard commanded the Anzac Class frigates, HMAS Parramatta and HMAS Perth, as well as serving at sea in Canadian, Malaysian and US Navy warships and on operations in the Middle East, South China Sea and Border Protection.
His last role was Commander, Maritime Border Command, leading Operation Sovereign Borders.
From 2015 to 2017 he was commanding officer of the Navy's Surface Force, comprising 18 warships, and leading more than 3000 personnel while overseeing a $950 million budget sustaining the Navy surface fleet.
"We are delighted to appoint Lee to what will be a pivotal role,'' Mr Nioa said.
"As well as his extensive leadership qualities, Lee brings an extraordinary combination of military and commercial experience to the AMC which will be invaluable as the enterprise transitions to a work program.''
RADM Goddard said the AMC role was a once in a generation opportunity to be a part of a major defence project that will have far-reaching economic and strategic benefits for Australia.
Independent analysis commissioned by the AMC has forecast that the economic benefit of the GWEO enterprise over a 20-year period includes more than 13,000 jobs, $178.91 billion in gross output, $73.43 billion in GDP and $25.03 billion in factor income.
"Building an in-country smart munitions industry will be a huge and complex undertaking. The AMC is excited about the potential this has to stimulate the defence industry," RADM Goddard said.
"Over the longer term this project will help create new manufacturing opportunities for Australians and pioneering technologies that can be developed and exploited in Australia."
The AMC has linked with more than 320 partners from defence, aerospace, academia and government since Prime Minister Scott Morrison announced $1 billion to accelerate a domestic guided weapons industry in March last year.
The AMC's advisory board, chaired by former defence minister Christopher Pyne, comprises some of the sharpest minds in the industry including former US Under Secretary of Defense for Acquisition and Sustainment, the Hon. Ellen Lord, US Army Brigadier General (Ret'd) Alfred Abramson and Dr Ken Anderson, former Chief of the Aerospace Division in the Defence Science and Technology Group.
Founded in regional Queensland in 1973, NIOA has more than 165 staff with offices and operations in Brisbane, Canberra, Melbourne, Benalla, Lithgow, New Zealand and the United States.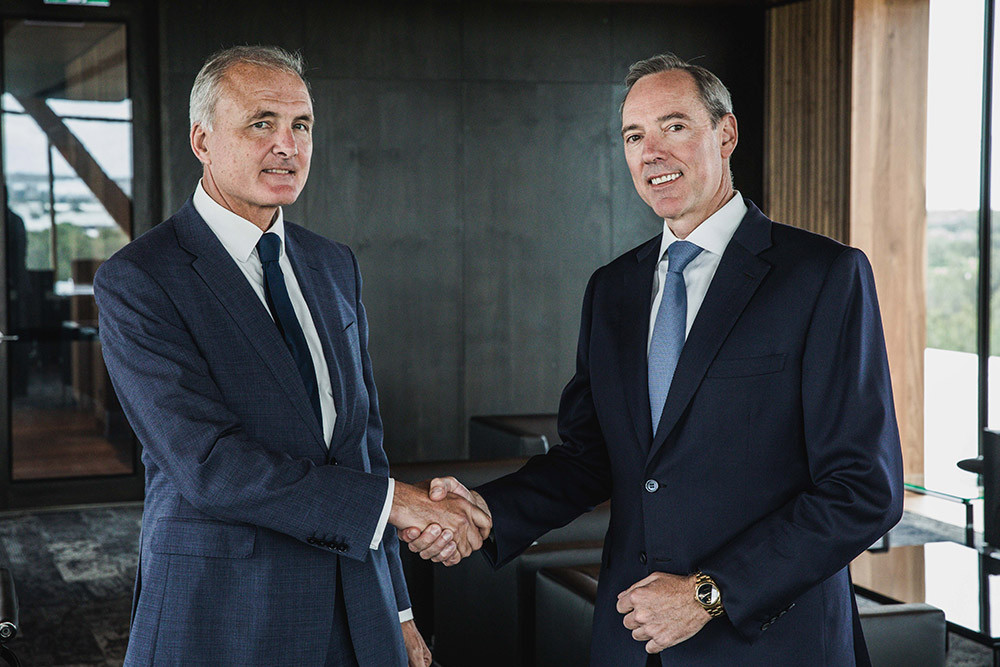 NIOA CEO Robert Nioa, right, congratulates Rear Admiral (Ret'd) Lee Goddard on his appointment as CEO of the Australian Missile Corporation which has been selected to partner the Commonwealth Government in establishing an Australian guided weapons industry.